X-Factory X-6 Squared Complete Kit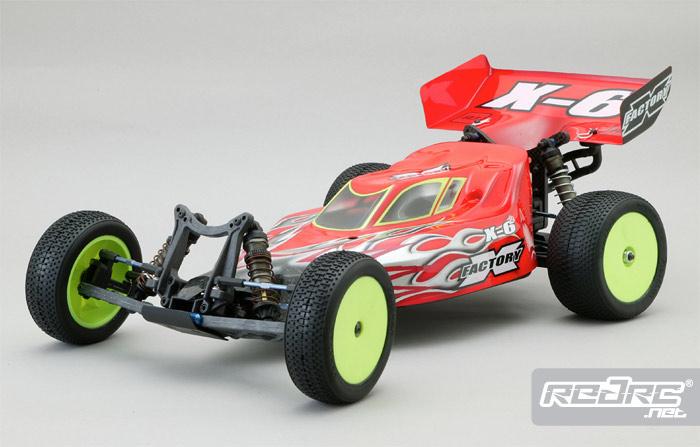 Features
- The new M.I.P. C-CVD – among the first Kits to have them as standard – and we have the latest white rings
- Best quality Lunsford "Punisher" titanium turnbuckles and broached Ti ball studs. $85 value
- Lunsford titanium hinge pins
- J Concepts ball cups.
- J concepts body & wing.
- New X Factory exclusive 2-piece window masks make it simple to paint an outline around all three windows to enhance that great paint scheme.
- Diff balls from the supplier used by B-Fast for the smoothest possible diff.
- Black anodized aluminum shims for a dialed suspension – no more ugly white plastic to wear out introducing suspension slop
- Aluminum FT front brace.
- 30 degree caster blocks
- B44 rear hubs with oversized outer bearings
- X-Factory's rear hinge pin mounting system with brass bushings – simple to install but secure with no wear
- X-Factory's famously smooth 4-Gear transmission gets the motor rotation right for best forward traction, best braking, and controllability in the air
- X-Factory # 5210 CNC machined one-piece hardened steel top shaft wears better for fewer rebuilds and no misplaced spacer when your race is up in five minutes
- X-Factory # 5530 slipper plates
- X-Factory # 2601 steel front axles.—strong, but won't catch on the pipe
- X-Factory # 5661 rear axles for maximum droop standard in the C-CVD kit
- X-Factory # 5700 anodized aluminum transmission shims for precise adjustment and dialed appearance
- X-Factory # 3313 Carbon Fiber rear shock tower
- X-Factory # 1223 Carbon Fiber LiPo battery brace
- X-Factory # 1006 "plastic" chassis
- AE Factory Team threaded shocks
- All new X-Factory instruction manual – keep the gorilla in his cage while you build the entire car with us
lg Ghost 22
HABENWILL :O :O :O
Mein armes Geld

EGAAAAL xD
greeetz

Steakjunky

Admin





Anzahl der Beiträge

: 922


Anmeldedatum

: 29.09.09


Alter

: 28


Ort

: Wien




Ähnliche Themen
---
Befugnisse in diesem Forum
Sie können in diesem Forum
nicht
antworten